Are you looking for training for you and your colleagues? We can help you. We offer training and workshops in:
Sustainability
Conservation
Preservation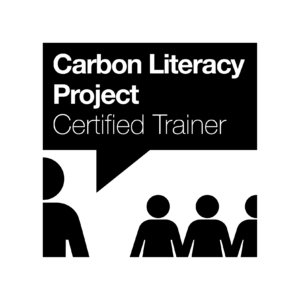 Current Courses offered:
Can't see the course you want?
Courses created to your exact requirements.
Feedback from courses:
" Lorraine's approach is transformative and a must for anyone wanting to work sustainably but overwhelmed or unsure they can make a difference."
"Absolutely jam packed with useful information. Well presented and I loved the practical examples …. One of the most useful day courses I've been on."
"Lorraine delivered the session in a very engaging way and was welcoming of questions throughout. Her enthusiasm was very apparent."
"Clear, thorough and engaging."
"Lots of expert and practical guidance."
"Lorraine is an excellent teacher – a clear communicator, clearly with her finger on the pulse of this sector."
"Incredibly informative."
"Brilliant. Insightful. Inspirational."
Recent presentations to enjoy:
How to Reduce the Environmental Impact of Your Emergency Kit. Sustainability as Disaster Preparation. FAIC and Connecting to Collections Care
Mould the Destroyer Discover what causes mould, view examples of the damage it causes and explore how to prevent mould outbreaks. Find out about at the health hazards associated with mould and the steps you should take to reduce this risk.
Podcasts
Low Cost/No Cost Tips for Sustainability Green Tea. AIC Sustainability Committee.
Building a Business The C Word. The Conservators' Podcast.
Focus on Photos The C Word. The Conservators' Podcast.
Conservation on a Budget The C Word. The Conservators' Podcast.
Looking After Your Conservator The C Word. The Conservators' Podcast.
Panels and Keynotes:
Available to participate in panels and as a keynote.
Recent Keynotes
The Time For Talking is Over: Sustainability Action in Collections Management. Axiell UK Meet-up for Museums, Archives and Libraries, Leeds Royal Armouries.
Recent panel participation:
Challenging Collections Care. University of Cambridge Museums/SHARE, 8th Annual Collections Care conference
Covering Lockdown-Sized CV Gaps. Institute of Conservation, Emerging Professionals Network
Sustainable Record Keeping. Archives and Records Association
Sustainability in Collections Care. University of Cambridge Museums/SHARE
Museums, Galleries and Visual Arts. Discover Creative Careers
Conservation/Collections Care Jobs. Fair Museum Jobs
Social Class in Museums. Fair Museum Jobs